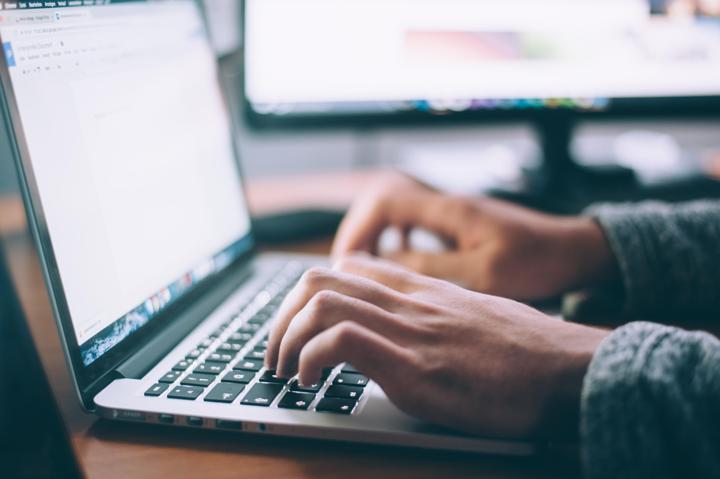 A call-to-action, or CTA, is an essential part of any web content your business produces. This digital marketing tool serves many purposes, including helping you grow your customer base and converting viewers into buyers. Knowing how to craft an effective CTA can drastically increase your business's web presence and drive up your sales consistently. Follow the tips in this guide to create a CTA of your own and improve your digital marketing skills.
What is a Call-to-Action?
A call-to-action is a digital marketing strategy that businesses use to prompt potential customers to perform some action, be it clicking a link or subscribing to a newsletter. The CTA can take the form of a single word or an entire phrase, as long as it tells the reader exactly what to do next. In digital marketing, CTAs typically contain hyperlinks so readers can easily reach the page you're promoting. 
You can design your CTA to appear as a pop-up box, banner, or even a button on your website. Depending on what you are promoting, you can link your CTA to sales pages, newsletter sign-up forms, or even blog posts. As long as you craft an enticing CTA, your readers will be tempted to follow your instructions and make the conversion from reader to customer.
The Importance of a Call-to-Action
The primary purpose of a call-to-action is to drive web traffic to specific pages of a company's site. The CTA acts as a "signpost" for readers by directing them to the next step in the process they've started by viewing your content. The CTA shows your readers how to accomplish a goal, whether that goal is purchasing a product or hiring a service. 
In addition to helping your readers find the services and information they're looking for, CTAs also provide your company with several benefits.
Growing Your Customer Base
Because CTAs direct readers to various pages on your website, they are extremely useful for generating awareness of your brand. The better your CTA, the more likely your readers will visit more pages and become more familiar with your services. This can also lead to a generation of more leads, as you can grow your email list and market to many readers directly, further increasing the chance that they will become customers in the future.
Improving Your Sales
CTAs give your readers easy access to the products and services that will benefit them the most. With the click of a button, a reader can be converted into a customer by giving them instructions to follow at the right time. CTAs are also the beginnings of a sales funnel, meaning they start the process of making a sale by generating interest in a company. By designing an effective CTA, you can ensure sales are made by moving your readers along the sales funnel process.
Call-to-Action Types
There are several types of CTAs that you can use to drive sales and increase your company's web traffic. Some of the most popular forms of CTAs include:
Buttons
Anchor texts
Newsletter sign-ups
Buttons
One of the most common CTA types, buttons work best when they stand out against the rest of the page. CTA buttons should be large and include a short phrase that explains to the reader precisely what they will receive with their click.
Anchor Texts
Most commonly used in blog posts, anchor texts are short phrases with embedded links that send customers to relevant pages when clicked. These in-text CTAs can improve your customers' reading experience as they are directed to additional tutorials, products, services, and articles that further their knowledge of your brand and move them along the sales funnel.
Newsletter Sign-Ups
Your email list is one of the most significant assets you have when it comes to growing awareness of your brand. By adding a newsletter CTA to your website, you can encourage readers to sign up for promotional emails to keep up with your brand's newest content. As you expand your email list, you further increase your potential for sales and widespread recognition of your brand.
How to Write an Effective Call-to-Action
It's important to choose your wording carefully when crafting your CTA to ensure it entices your readers and compels them to click. When creating your content, there are several tips you can follow to craft the perfect CTA. 
Utilize Action Words
Since the CTA provides your reader with instructions on where to go next, take advantage of action words to ensure your meaning is communicated clearly. There are countless action words to choose from, but some of the most popular choices include:
Join
Learn
Grow
Build
Get started
No matter how you choose to word your CTA, make sure it evokes a response within your reader and persuades them to take action.
Emphasize Your Value
When crafting your CTA, you'll want to emphasize the value that your company provides to readers who sign up for newsletters or click embedded links. Let your readers know exactly what they'll gain by following the instructions in your CTA.
Where to Put Your Call-to-Action
There are several places you can include your CTA to maximize its potential. On your website, you'll want to be sure you have a CTA in multiple places—like your homepage or blog posts—to give readers ample opportunity to access your products and services from anywhere on your site. If your website doesn't already have a blog, now is an excellent time to start one and drive even more traffic to your site. Outside of your website, you can send readers CTAs via an email campaign, social media posts, or sponsored ads on sites such as Google.
By following the tips in this guide, you'll be sure to craft a CTA that motivates customers to learn more about the products and services your brand has to offer. Start designing the perfect CTA today to see just how much your business can grow.